รายละเอียดเพิ่มเติม
ยามาฮ่าฟลูต YAMAHA YFL-482HGL (Low B)
Featuring a headjoint, body and footjoint of sterling silver, our YFL-400 Series flutes offer an incredibly warm, rich tone.
Ideal for flautists moving up a step, or beginners just getting started, the YFL-400 Series models have a lip plate specifically designed to guide you towards proper breath technique and feature keys perfectly sized and balanced for easy playability.
The YFL-472 model features ring keys, an offset G key and has a Split-E mechanism. This model has a B footjoint and gold-plated lip plate.
ฟลู้ทระดับโปรเฟสชันนอลที่มากกว่าคำว่าราคาไม่สูง…
A lip plate designed to guide beginners toward proper breath utilization, keys with carefully considered dimensions and angles for optimum balance and easy playability. These and other details are some of the reasons why Yamaha student and intermediate flutes have become bestsellers worldwide. An inimitable blend of leading technology and craftsmanship goes into each and every instrument. New refinements include pointed key arms contributing to elegant visual appeal, and a completely revised key parts manufacturing process that significantly enhances overall precision.
The 400, 300, and 200 series models offer various combinations of sterling silver and nickel silver. An extensive lineup makes it easy to choose an ideal first instrument for every player.
คุณสมบัติ

Key Posts
Key posts have been thickened and redesigned for improved durability and strength to maintain accurate rod alignment.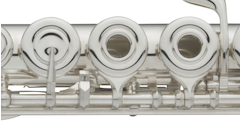 4
All key shapes and placement have been ergonomically designed for a comfortable, natural-feeling performance. The keys are hand-assembled and adjusted for perfect balance and 'touch.'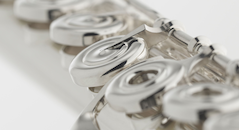 Pointed Key Arms
A#, F# and other non-fingered keys feature pointed key arms. This beautiful key design is inspired by traditional European style.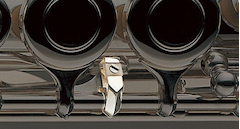 Adjustment Screws
Yamaha's unique screw resistance inserts allow smooth adjustments while preventing gradual loosing of the screws. For easier access, the screw positioning has been changed.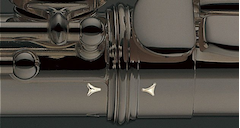 Alignment Marks
Footjoint alignment marks facilitate proper fitting by young players.

Curved Headjoint (FHJ-200U)
An optional curved headjoint makes flutes easier for young children to hold and play. It comes with a convenient carrying case which holds both headjoint and flute case.
High Durability Artificial Materials *only for YFL-222HD
The YFL-222HD has been designed to maintain the playability, pitch accuracy, and beautiful tone of Yamaha standard flutes for longer periods with less maintenance. The pads, head joint cork, and felt pads are made of high-durability artificial materials that reduce the frequency and cost of maintenance. The YFL-222HD is an instrument that beginners can choose with confidence.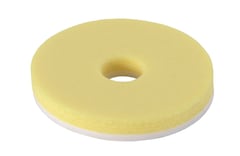 Valentino® Goldfinch Pads™
These pads are extremely durable and resistant to changes in humidity. Compared to general flute pads they are less prone to deformation, and therefore maintain a better seal for longer periods of time.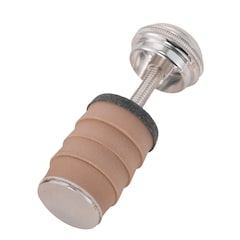 Valentino® Strata Cork™
The cork fitted into the flute's head joint is made of a new artificial material, and a unique 5-part structure maximizes resistance to changes in humidity. This prevents the reflective plate in the head joint from shifting out of position, thereby maintaining pitch accuracy for longer than a standard cork.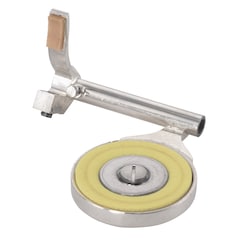 Urethane Foam
Most standard flutes use small felt pads to reduce noise and wear at points where metal key mechanism parts come into contact. Over time the thickness and shape of the pads can change, reducing the smoothness and playability of the key mechanism. The YFL-222HD uses a high-durability artificial material in place of felt, ensuring long-term key mechanism stability.
Material Combination for Intermediate & Student Flutes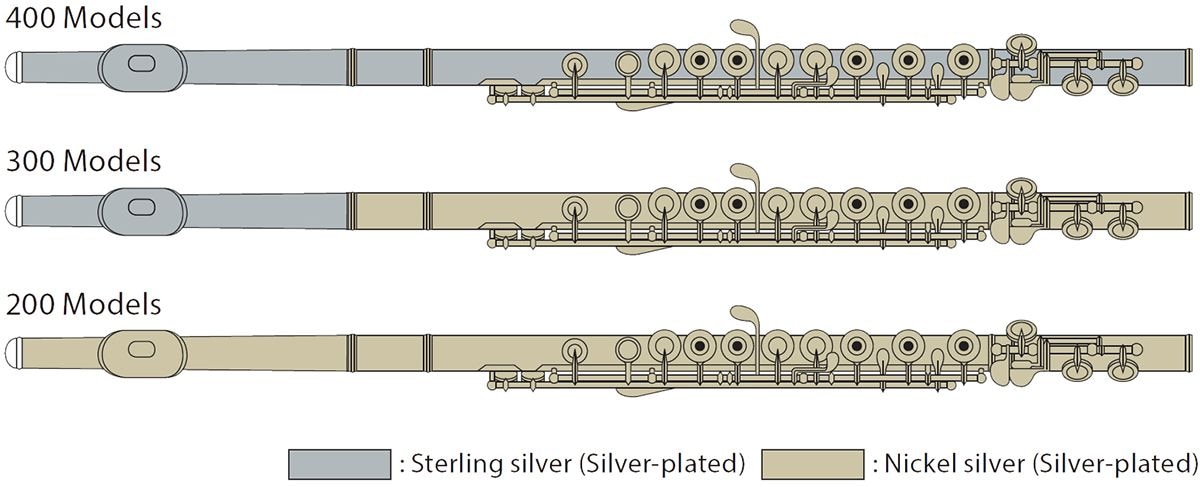 โทนโฮล

Drawn and Curled
Walls are drawn upward from the body material, giving the flute a broad, light sound.
ประเภทคีย์
Covered (or Plateau) keys are easy to use. The pad cup is covered so it will seal the tonehole any time the key is closed. This is common with beginners or others who may not always press the center of the key.
Many advanced players prefer the open feel of Ring keys for subtle control of their tone. Intermediate and Standard model French system flutes come with key plugs to seal the hole until players have become adept at covering the holes with their fingers.

Covered Keys

Ring (French) Keys
ระบบคีย์
Many players find the Offset G configuration easier to play. Often teachers recommend that beginners start on these flutes, while more and more advanced players are also choosing this natural feeling configuration. Many advanced students and professionals, though, still prefer the traditional In-line formation where all the toneholes are in a straight row.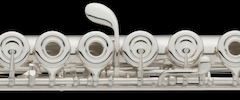 in-line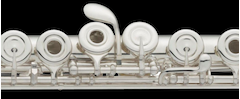 Offset G
Split E Mechanism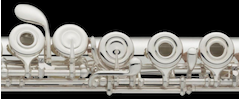 This key helps give more stability and better centered intonation to the high E.
Footjoints
The B footjoint has an extra key enabling the player to play 1/2 step lower than the lowest note of the C foot. It also affects the sound; B footjoint enables a darker, stronger sound with good projection, while C footjoint has flexible, warmer tone.

B Footjoint

C Footjoint
ข้อมูลจำเพาะ
Intermediate & Standard Model Flutes

Toneholes
Key Types
Key Systems
Split E Mechanism
Material
pad
Headcork
Felt
Case
Case Bag
YFL-482*
Drawn and Curled
Ring Keys
In-line
–
Sterling Silver & Nickel Silver
Felt Pad
Cork
Wool Felt
FLC-200C
FLB-400EII
YFL-472*
Offset G
Included
YFL-462*
–
YFL-422
Covered Keys
YFL-412
Included
YFL-382*
Ring Keys
In-line
–
YFL-372*
Offset G
Included
YFL-362*
–
YFL-322
Covered Keys
YFL-312
Included
YFL-282
Ring Keys
In-line
–
Nickel Silver
FLC-190
–
YFL-272
Offset G
Included
YFL-262
–
YFL-222
Covered Keys
YFL-222HD
Valentino® Goldfinch Pads™
Valentino® Strata Cork™
Urethane foam
YFL-212
Included
Felt Pad
Cork
Wool Felt

* Some models are available with a B footjoint. Please add H to the model number. They come with a case (FLC-48II) and a case bag (400 Models: FLB-400EHII, 300 Models: FLB-48II).
* Some models are available with a gold-plated lip plate. Please add GL to the model number.
* Some 200 Models are available with a silver lip plate. Please add SL to the model number.
* YFL-212 is available with a curved headjoint. Please add U to the model number. It comes with a case (FLC-220) and a case bag (FLB-200UEII).
* These special models are not available in some regions. Please contact to dealer for more information.